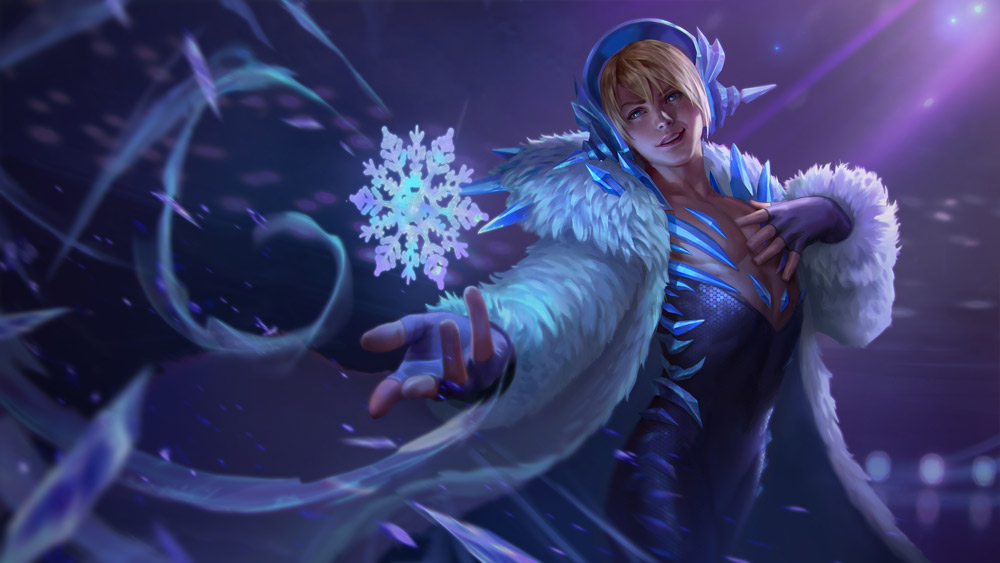 Vox jumps, spins and leaps into Vainglory with an outrageous new ice skating performance! Read on to discover more about this legendary new skin. 
---
MODEL CHANGES
Long ice troll fur coat
Deep blue figure skating costume with protruding ice shards!
Ice-carved headphones
ANIMATION & EFFECTS CHANGES
Frost flies from new icy effects!
All new skating run and sprint with several variations
Skid stops, poses, dances, jumps, spins and leaps!
Trip & fall death
---
ALTERNATE FATE LORE
THE WORLD'S MOST ELUSIVE CHAMPION
by Sugar Venom, Sports Analyst
Evil Sports Broadcasting Organization
"You gonna eat that?"
Ten minutes before he skated his way to a first-place medal in the Worldwide Winter Championships in Trostan, the most elusive figure skater in the world plopped down in the chair opposite me, shrugged off his floor-length ice troll fur coat and grabbed up my sandwich before I could say a word.
That's how I met Vox, a kid who erupted on the scene this year out of Taizen Gate, a hot island known more for its tech than its skating rinks. No one knew who he was when he first arrived on the scene, winning the invitationals in New Aullerium and then placing first in the ultra-competitive Seven Islands Regional Championship, wearing his trademark headphones.
For the world championships, his headphones were carved from ice, as were the shards protruding from his chest and deep blue costume. His fur coat, a nod to the local fauna, caused an uproar among troll rights activists. But Vox was no stranger to uproars. He stunned the world when, at the beginning of his first show, he shot a magic sonar energy from his hands that blasted apart the rink's speakers.
"I'm not into the same old boring skating music," he told me with his mouth full of my sandwich. "At my shows, the music comes from inside the audience. Their hearts beat together, their minds make the melody, and we're all a part of the show."
His raw athletic talent matched the musical phenomenon. Vox smashed records, landing strings of impossible jumps and leaps with solid technique. During this time of uneasy peace between the two empires, even the Storm Queen of the Eventides sent delegates to take a look. After winning the world championships, Vox astounded the world again by refusing to perform a private show for the queen herself. Only I was unsurprised.
"I don't care about queens and stuff," he told me when I asked if he was nervous to perform in front of some of the world's most important people. "My dad's a Gythian mechanic. My mom was… she was from the Eventides, I guess, but I'm a Taizen kid. In Taizen Gate, everything's a party, and I'm always the one throwing the party."
In all my years of sports reporting, I'd never seen an athlete so at ease before a performance. "But so much is on the line," I said. "Don't you care what happens?"
"I care desperately," he said, and took a gulp of my hot chocolate. "This is just how I live my life. I grip it and rip it. I give everything my best shot."
Vox disappeared in a shroud of mystery from the world stage after winning it all. Rumors abound, but even the most exhaustive search turns up only the occasional low-budget Taizen gathering, where a mysterious boy is said to throw raves using no speakers, microphones, or tech of any kind except his ever-present headphones.
The world of figure skating, everyone agrees, is a snooze without him. Vox, if you're out there, we're all eagerly awaiting your return to the rink.
---
Read Vox's canon lore:
---
WALLPAPERS